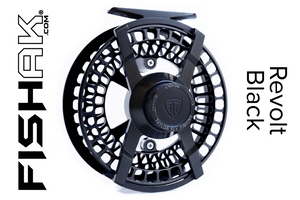 Taylor Fly Fishing
Revolt - Fly Reel
Revolt (definition): 1. to break away from or rise against constituted authority, as by open rebellion; cast off allegiance or subjection to those in authority; rebel; mutiny:
The Revolt was designed using the favorite aspects of our other popular reel models combining them into a performance product that reflects the spirit and soul of Taylor Reels! We combined the X style frame from the T1/TYPE1 with the porting and machining of the Enigma 2.0 to create a reel with a stunning look and feel. We took the powerful drag of the Revolution Z along with the proven ergonomics and dimensions of the Z to make a reel that 100% performance driven. The Revolt is designed for big salt-water, small mountain creeks and everything in-between. The Revolt features a powerful carbon-fiber/stacked/sealed drag system that is silky smooth with 3.5 knob rotations of adjustments. The 3.5 rotations of adjustments allows you dial in the perfect amount of drag power according to your needs. This reel features two different drag chamber sizes; the 4-6wt features the smallest drag chamber, created to be strong yet light with 10lbs of maximum drag. The 7-9wt and 10-12wt feature a larger sized drag chamber with up to 15lbs of max drag. While the Revolt isn't our most expensive reel, it has everything you could dream of in a perfect fly fishing machine!
- Watertight sealed drag system (salt-water safe)
- Hard anodized exterior for both beauty and protection
- Multiple standard colors (Stealth Black, Ultra Violet, Sand, Deep-Sea Blue)
- Multi-disk stacked drag system; drag settings from 15lbs plus to fine sensitivity. 
- Highly ported yet ridged frame design
- Ultra large arbor design for fast retrieve and minimal line coil. 
- Cold-Forged and machined from aerospace 6061 T6 Aluminum 
- Reel clicks on both incoming and outgoing
- Convertible to both left and right hand retrieve
- Reels come in a tough cordura/neoprene case
- Scaled drag system (small and lightweight on the smallest model, the larger the reel the bigger and stronger the drag system)
4WT - 6WT Details:
SIZE - 97MM DIAMETER / 22MM INNER WIDTH
CAPACITY - 5WT + 80M 20LB
WEIGHT - 5.8OZ
7WT - 9WT Details:
SIZE - 113MM DIAMETER / 24MM INNER WIDTH
CAPACITY - 8WT + 150M 20LB
WEIGHT - 7.25OZ
10WT - 12WT Details:
SIZE - 120MM DIAMETER / 27MM INNER WIDTH
CAPACITY 11WT + 200M 20LB
WEIGHT - 7.75OZ