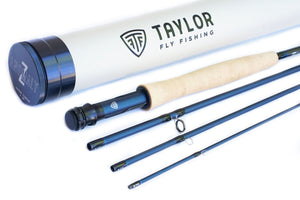 Taylor Fly Fishing
ANOMALY Z - Fly Rod
ANOMALY (DEFINITION): SOMETHING THAT DEVIATES FROM WHAT IS STANDARD, NORMAL, OR EXPECTED
You have never felt anything like the Anomaly Z. Being one of the first companies to experiment with graphene, has given us the ability to build rods that are lighter and stronger than anything ever before. Graphene allows us to build a 5wt rod with lower taper power and lightning speed recovery, yet weights less than 2.69oz! The swing weight is so light that a 5wt feels more like a light line 4wt. Our highly reviewed and beloved Anomaly taper has been refined and perfected with the Anomaly Z. The medium-fast taper has the same level of power yet greater accuracy at every distance when compared to the original Anomaly. The Anomaly Z is leap forward in blank technology, performance, and action.
ACTION - The Anomaly is a fast/medium-fast action rod with an ultra-fast recovery speed.  
Graphene was discovered in 2004 by a researcher at the University of Manchester. The discovery won the researcher a Nobel Prize in physics. Graphene is a carbon product that is a single molecule thick, arranged in a honeycomb pattern. Graphene is innovative as a material because it is amazingly light in mass and stronger than diamond. It is 100X stronger than steel of the equivalent mass. Graphene is revolutionary in the world of fly rods. It allows us to build a blank that is lighter and significantly stronger. This is breakthrough technology.
 A revolutionary blank requires top of the line hardware. The Anomaly Z uses the new Cericoil stripping guides. Cericoil guides are extremely durable and made with lightweight titanium. The remaining guides are single foot REC recoil titanium guides. These guides bend without breaking and also act as tiny shock absorbers to eliminate any rod vibrations.
Production rods aren't always known for their quality in craftsmanship. Single coat epoxies are fast and cost efficient, but leave the blank with heavy, bubbly wraps that have no place on a top quality rod. The Anomaly Z is constructed with new top of the line materials and quality centric techniques that keep wraps light, flat, and beautiful! 
- Medium-fast action/ ultra-fast recovery speed
- Ultra-high modulus carbon fiber and graphene blank
- Carbon fiber with custom aluminum reel seat
- Raw un-sanded blank with matte blue finish
- Flor-grade thin ring cork handle
- Best in class swing weight
- Life-time warranty
- Available in 4wt, 5wt and 6wt
- Laser engraved cream/blue aluminum tube with fast dry rod sock
- Titanium recoil single foot guides 
-  Cericoil titanium stripping guides
- Alignment dots with rod length and weight on ferrules
- Light weight (5wt --- 2.69oz)
- Salt-water safe in all sizes
9' 5WT Details:
WEIGHT - 2.7 OZ
HANDLE - A (NO FIGHTING BUTT)
SECTIONS - 4 PIECE
LINE RECOMMENDATIONS - RIO GOLD, S.A. INFINITY, CORTLAND FINESSE TROUT, ARC 99+
Here at Taylor we place a huge focus on innovating, creating, and pushing fly fishing technology forward. We were one of the first companies to introduce a carbon fiber fly reel. We were one of the first to experiment with graphene in our rods. We pushed the limits of reel construction by introducing the cold forging process in our reel construction. We are constantly looking for new ways to make our products lighter, stronger, and more durable.
KEY INNOVATIONS
GRAPHENE - Lighter, stronger, and less swing weight in our graphene fly rods.
CARBON FIBER - Carbon fiber reel frames are lighter, stronger, and offer superior balance.
COLD FORGING - Stronger than traditional bar-stock aluminum. Greater color saturation via anodizing.
CUSTOM ANODIZING - More reel customization options when compared to any other reel company.
With most fly fishing companies, once you leave the shop and fish a rod or reel there are no returns. Taylor allows you to fish any product for 30 days and return or exchange no questions asked. This gives you, the consumer a huge advantage over the typical 10 minute parking lot session to test every rod and reel. We want all our customers to LOVE their products. You can buy with confidence and peace of mind at Taylor Fly Fishing.
THE TAYLOR DIFFERENCE
- 30 DAY RETURNS ON ALL PRODUCTS
- LIFETIME WARRANTY WITH INDUSTRY LEADING PROCESSING TIMES
- UNMATCHABLE REEL CUSTOMIZATION
- WORLDWIDE SHIPPING
- SUPERIOR VALUE AT EVERY PRICE POINT
Taylor products are typically 20%-30% less expensive than our competitors. Why? There are several things that bloat the costs of fly fishing rods and reels: complex distributor networks, huge advertising spending, big box store margins, etc. At Taylor we only sell direct to consumer and direct to fly shops. Having no disturbers and no big box stores, allow us to save you the consumer money. You still get all the innovation and all the quality for 20%-30% less money out of your pocket.
PRICE COMPARISONS
Brand G - $1,100 for flagship rod
Brand X - $950 for flagship rod
Brand S - $895 for flagship rod
Brand W - $975 for flagship rod
Brand O - $899 for flagship rod
TAYLOR ANOMALY Z $699 (best components, lighter blank, and proven taper design)